it's monday, it's before 10:00 am, i got up and got out of the shower around 9:00 or so, and i'm already exausted… 😐
and i haven't even been that busy… it's really bizarre.
last week i started on a 6-pack of "Red Stripe" bottles and i broke 3 of them in the process of drilling out 5 of them. i think the ½" drill bit is a little too large, but the solution to that problem means going back to hardwicks and getting the next smaller sized bit… and i'm not going back to the seattle area again until tomorrow. fortunately, i spent friday with fred, tearing apart computers for the Bowling For Computers event that macque is planning for trolloween, and he (conveniently) had a case of empty beer bottles that was in the recycling that he gave me.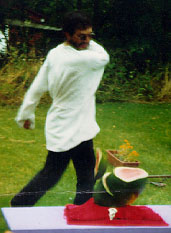 macque is also planning on having a Public Ritual Vegetable Sacrifice to start off the trolloween celebrations, and, to help with the sacrifice, i borrowed a sword from fred… because of the fact that the start of the trolloween celebration is going to be held on a stage in front of the troll, there will be no place to throw or drop the sacrificial victim that will gain enough downward momentum to make an appropriate sized SPLAT when the vegetable hits the ground, so i decided to go with the technique that i developed in 1993 to expose the entrails of the vegetable using an edged weapon… except that, this time, instead of a watermelon, it will definitely be a pumpkin (and a rather large one, at that), and, instead of a machete, i'm going to be using an authentic, REAL (i.e. NOT "costume") sword with a balanced blade that is around 2½ feet long. and, because of the fact that trolloween is a PUBLIC event, the PUBLIC is invited and encouraged to attend, without reservations. along with the vegetable sacrifice, there are going to be at least two bands (the Fremont Philharmonic is not playing this year), plus the "Bowling For Computers" event that i mentioned earlier, plus a "Dryer Squash" and a dance under the fremont bridge. the "Dryer Squash" is an event where teams of three, armed with sledge hammers, compete to see who can reduce a standard-size sears/kenmore dryer to 12 inches or less in the shortest period of time. the current record is just over 3 minutes.
i've also been helping a friend from college, who just moved to the area from eugene oregon, move his belongings, and those of his relatively-recently deceased parents, from an expensive storage unit in kent to his residence in puyallup. i'm VERY glad i'm not actually unpacking the boxes, but i have already made three trips to, and from the storage unit (with an unexpected side-trip to stanwood, which is, entirely in the opposite direction), and there's still a huge pile of boxes that are yet to be moved. maybe we'll make another trip today… the problem is that, at this point, rick doesn't have a lot of money coming in, and last month he had to make the choice between keeping all of the stuff in the storage unit, or paying rent, and, because of the fact that he had to make a similar choice the month before, and chose to pay for the storage unit, this month he was facing eviction, which would not have been the desired outcome. i figure i don't have very much money, but i do have a vehicle which is bigger than most, so i could help him move out of the storage unit, if nothing else. we've still got at least two more trips before everything except the empty boxes and the matresses are out of his storage unit.